Getting started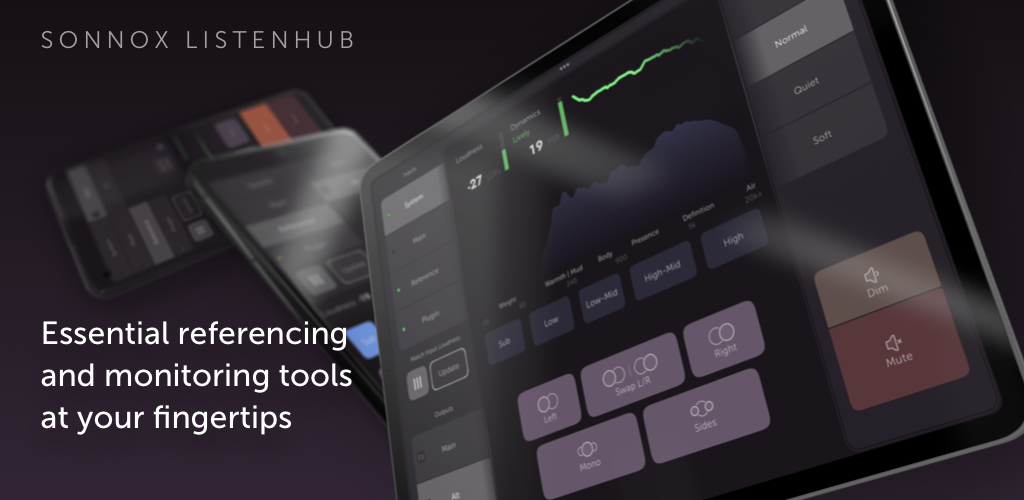 Mobile app
The ListenHub mobile app is free and is not required. You can use ListenHub without it, though this will often be less convenient. The app supports iOS and Android, and works well on tablets and mobile phones.
To install the mobile app search for ListenHub in your mobile app store, or scan this with your device camera:

Then:
Ensure that your mobile device and studio computer are using the same WiFi network
Open the Sonnox ListenHub macOS app or insert the plugin in your DAW
Open the mobile app!
If the mobile app does not display a button to connect to your computer, see the Troubleshooting page.
---
System-wide setup
The Sonnox ListenHub app will be running already after installation. You'll see a new icon in your menu bar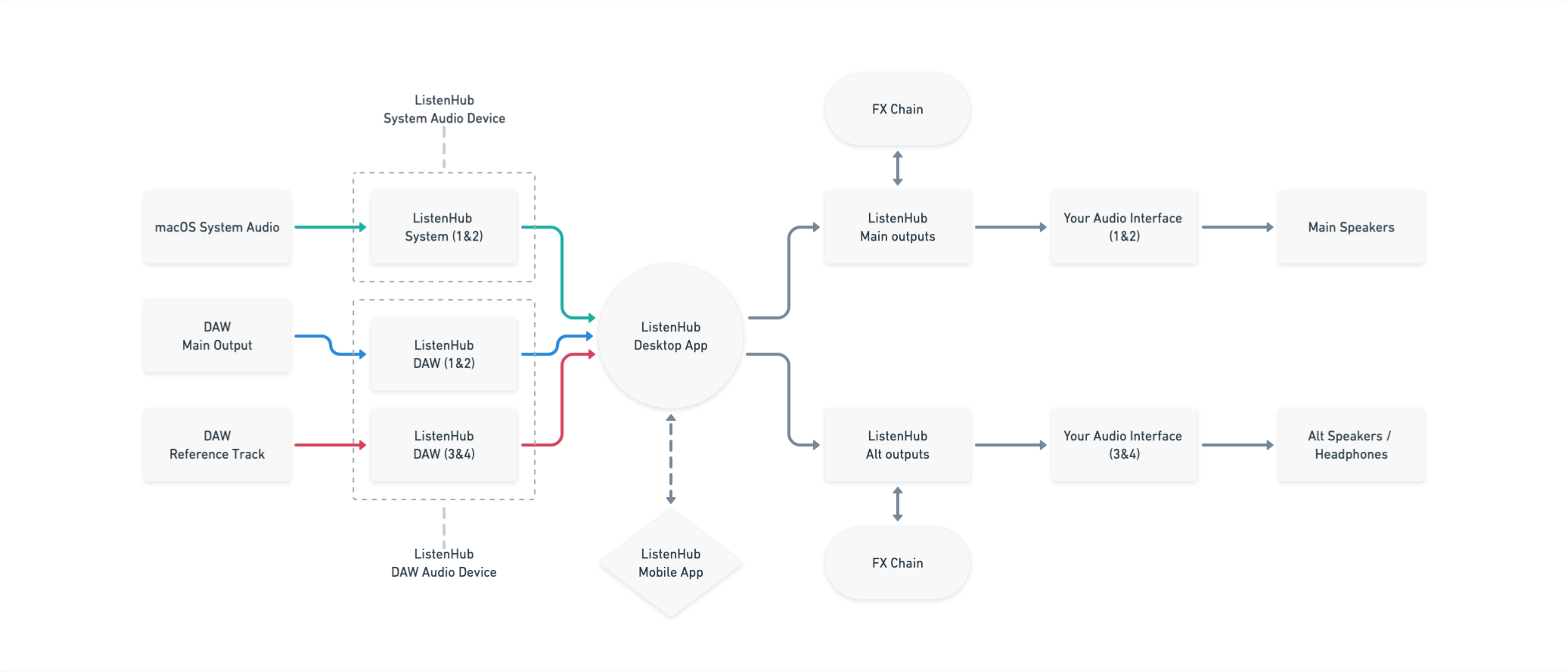 Inputs
Set system sound to Sonnox ListenHub
Click the ListenHub icon in your menu bar and set the Output Device to the hardware audio device you want to listen through
In your DAW, select Sonnox ListenHub as the Output Device
✅ All audio on your computer will now flow into ListenHub's System input.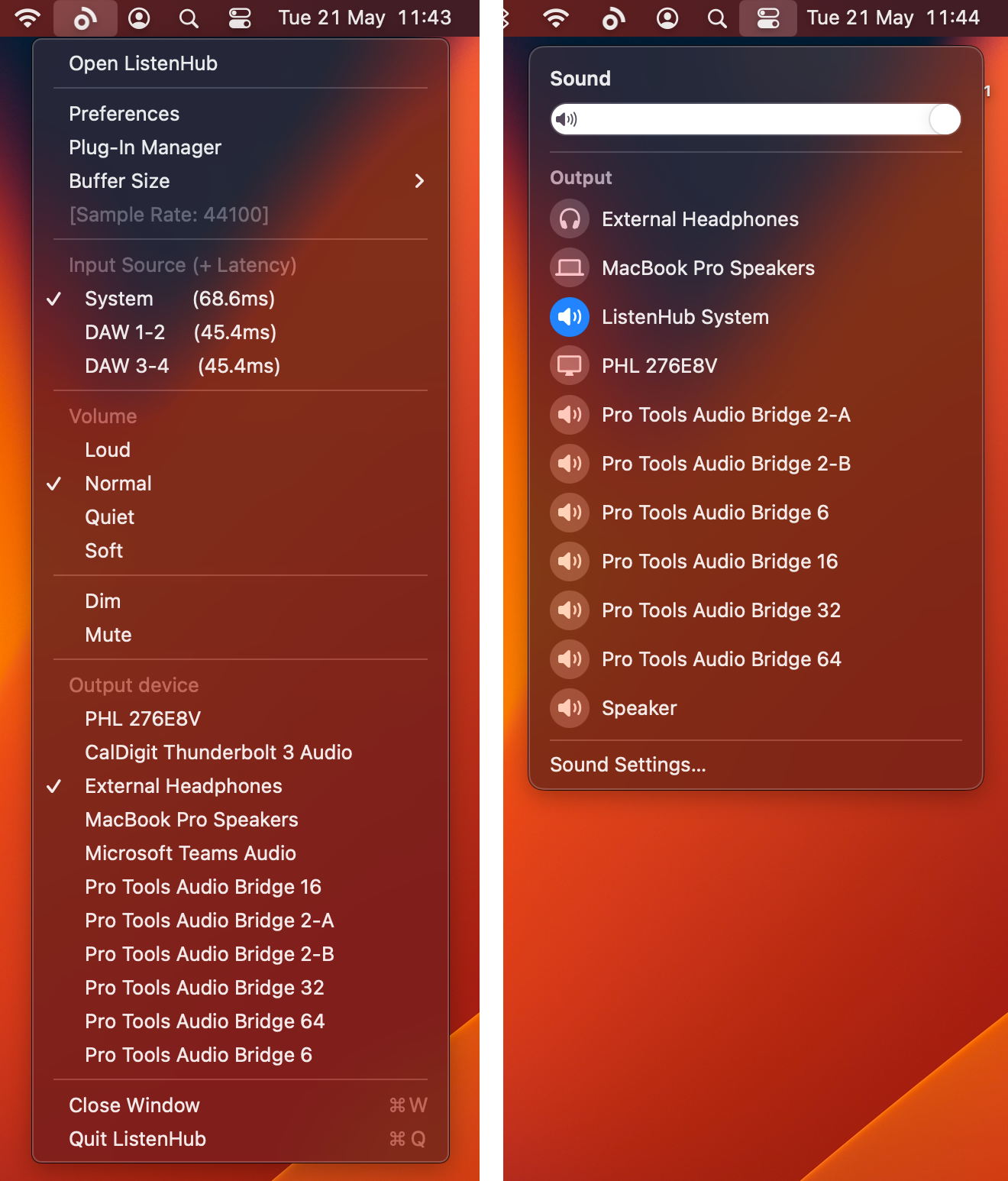 The ListenHub audio device has two additional inputs - Main and Reference - that are visible in your DAW as stereo hardware output channels:
System: channels 1&2
Main: channels 3&4
Reference: channels 5&6
For the most convenient set-up, select Sonnox ListenHub as your DAW's output device and change the master track output to channels 3&4 (Main). This allows level-matched instant switching between all system audio (channels 1&2) and DAW audio (channels 3&4). Channels 5&6 (Reference) can be used for reference tracks in the DAW.
See How to change your DAW mix bus output channels if you aren't sure how to do this. See How to use ListenHub → Audio device vs plugin if your DAW doesn't allow you to use different audio devices for sound input and output.
ListenHub always has all three stereo inputs, even if the hardware audio interface it's sending to has only one stereo output. This means everything continues working the same way if you switch from a studio audio interface with many output channels to built-in speakers/headphones or a smaller interface, for example when taking a laptop on the road.

⚠️ Therefore your audio interface's outputs from 3&4 onwards shift to become 7&8 and onwards as far as the DAW is concerned.
Outputs
ListenHub's Main output sends audio to channels 1&2 of the selected hardware output device. A second Alt output (disabled by default) can send to any other pair of output channels on your hardware audio device. To enable the Alt output:
Click the ListenHub icon in your menu bar and select "Open ListenHub", then click the settings icon in the footer
Select the hardware output channels that your second pair of speakers or headphones are connected to

A benefit of using the Alt output for headphones is that, when you select to listen to it, your main speakers will be muted. And when listening on your Main speakers, your headphones won't still be blaring in the background. This makes using open-backed headphones as an alternative mix/master check more convenient.
---
Launching ListenHub at login
macOS main menu bar → ListenHub → Preferences → Enable "Launch ListenHub at login"
System-wide audio device vs Plugin
We recommend using the system-wide audio device in most circumstances. There are two reasons why you might decide to use the plugin instead of, or in addition to, the audio device.
If you need to record from your audio interface inputs and your DAW doesn't allow the use of different hardware audio devices for sound input and sound output
If you need to record from your audio interface inputs and cannot tolerate the small amount of additional latency added by the ListenHub audio device
Using only the plugin
Keep your DAW output device set to yoiur hardware audio interface and insert the ListenHub plugin in the final slot of your mix/bounce bus. Or, if your DAW allows it, insert the plugin after the mix/bounce bus to ensure that your monitor control processing cannot affect your bounced mixes. The ListenHub plugin will bypass when your DAW is offline bouncing/rendering a mix to file.
Using the plugin and system-wide together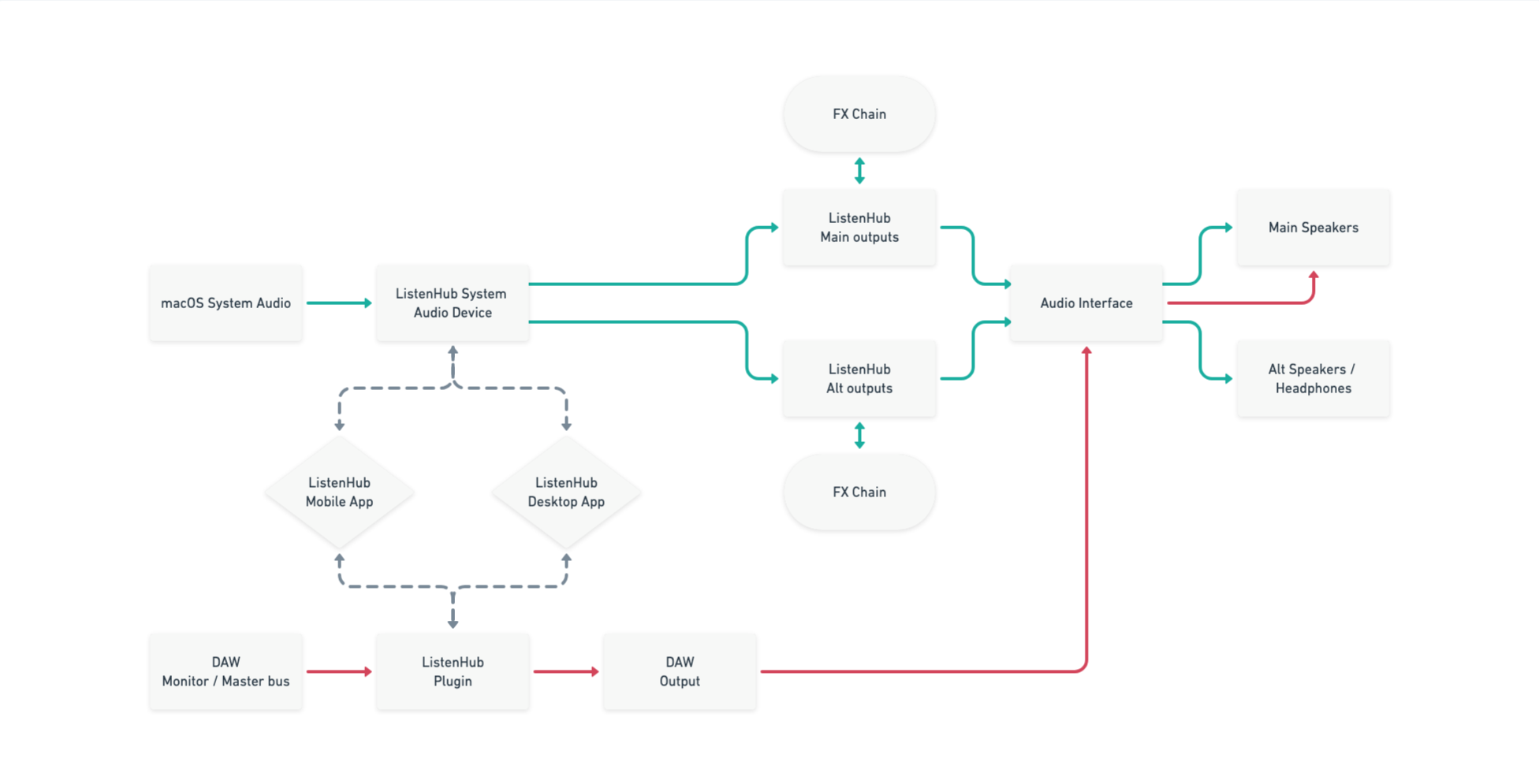 Use the ListenHub audio device for system sound as per Quick Start → System-wide setup
⚠️ Keep your DAW output device set to your hardware audio interface
Insert the plugin as above
When the ListenHub plugin and audio device are both being used, the plugin appears as a fourth input to select.
In this setup, your DAW audio is not passed through the ListenHub audio device. Since the plugin has zero latency, your round-trip latency remains the same. Selecting the System, Main, or Reference inputs mutes the ListenHub plugin output, and vice versa.